Introduction:
Laser therapy stimulates the body to heal within, non-thermal photons of light are administrated to for about 3-8 minutes and absorbed by the injured cells. The cells are then stimulated and respond with a higher rate of metabolism. This results in relief from pain, better circulation, anti-inflammation, and acceleration of the healing process.
Results vary from patient to patient and most are enjoying life again within a few weeks. The result of low-intensity laser irradiation is the restoration of normal function of the cell unit.
Therapy Applications:
Pain Relief
Knee Arthritis
Rheumatoid Arthritis
Athletics System Injuries
Soft Tissue Injuries
Sports Injuries & Sprain
Wound & Ulcer Acupuncture
Diminish Inflammation
Acupuncture Rehabilitation Therapy
Therapy Principle:
1. Improving blood circulation
Laser directly irradiates on the lesion part which blood flow is decreased or irradiates the sympathetic ganglion which dominates this range. It could supply sufficient blood and nutrition in order to improve metabolism and relieve the symptom.
2. Diminishing the inflammation quickly
The laser irradiates the lesion area to enhance the activity of phagocyte and improve the immunity and diminish the inflammation quickly.
3. Relieving the pain
The injured part could release the substance similar with morphine after laser irradiation. Laser irradiation also could reduce the conduction rate, power and impulse frequency to relieve the pain quickly.
4. Accelerating the tissue repair
Laser irradiation can accelerate the growth of new blood vessel and granulation tissue and improve protein-synthesis. Blood capillary is one of the basic elements of granulation tissue, which is the precondition of wound healing. Organizing much more oxygen supply to damaged tissue cells and accelerates the production of collagen fibers, deposition and cross-linking.
Therapy Advantages:
Proven results for pain relief, diminishing inflammation, soft tissue and skin injury therapy
Natural healing, non-invasive treatment, no side effect, no cross infection.
Increases the efficiency of traditional physiotherapy and conventional treatments.
Light, portable and rechargeable for continuous operation for 4 hours.
Creative systemic treatment on large surface, joints and acupoints.
Suitable for both professional and personal use.
Easy to operate and user-friendly.
The perfect combination of 808nm & 650nm
Available output power from 170mW to 510mW
Rechargeable lithium battery with 5200mA capacity
built-in lithium battery 5200mAh

808nm and 650nm

3 laser beams with 808nm,12 laser beams with 650nm

ABS

tempered glass

Pulse mode and continuous mode

start from 15 minutes, 15-60 minutes
10 grades adjustable, each grade increase 5 minutes

The device can work with power connection while battery dies

European standard and American standard. 4 hours on a full charge.

510mW

*Five buttons including ups button, downs button, the center button, left button and the right button.

*The ups button and downs button are used for adjusting the power of 808nm laser.
*Continuously press the center button, and then the power is on. Temporarily press the center button to pause.
*The right button is used for time adjusting, 60 minutes for a circulation an every time increases 5 minutes.
*The left button is used for working mode adjustment. 808nm and 650nm laser light will blink at the same time in the pulse mode.

Three grade for adjustment

Gray LCD display

Without voice broadcast.There is "bee" sound when pressing the function buttons.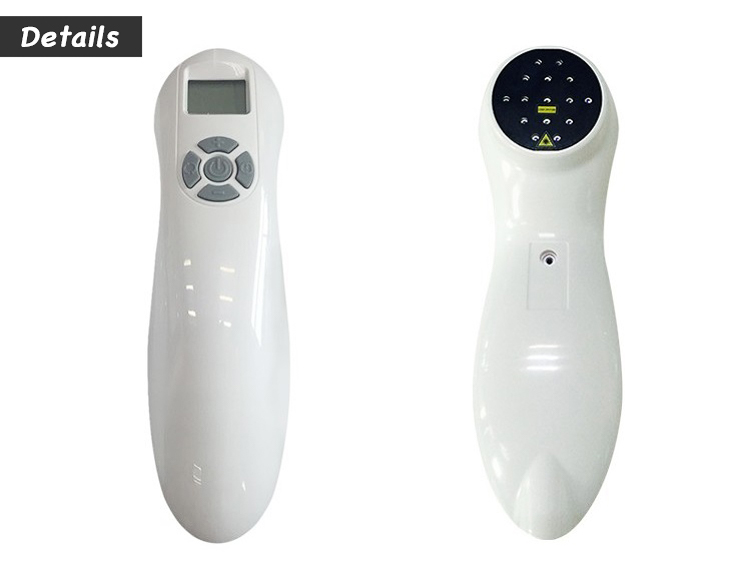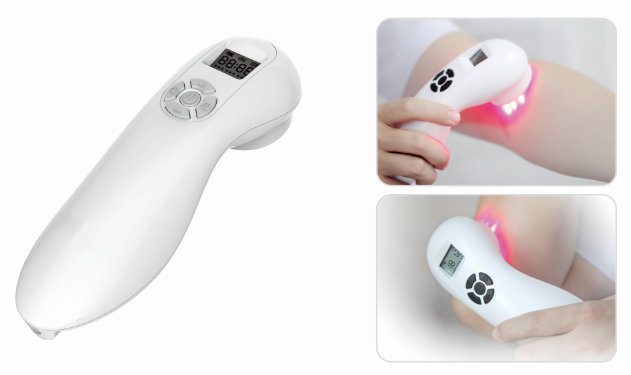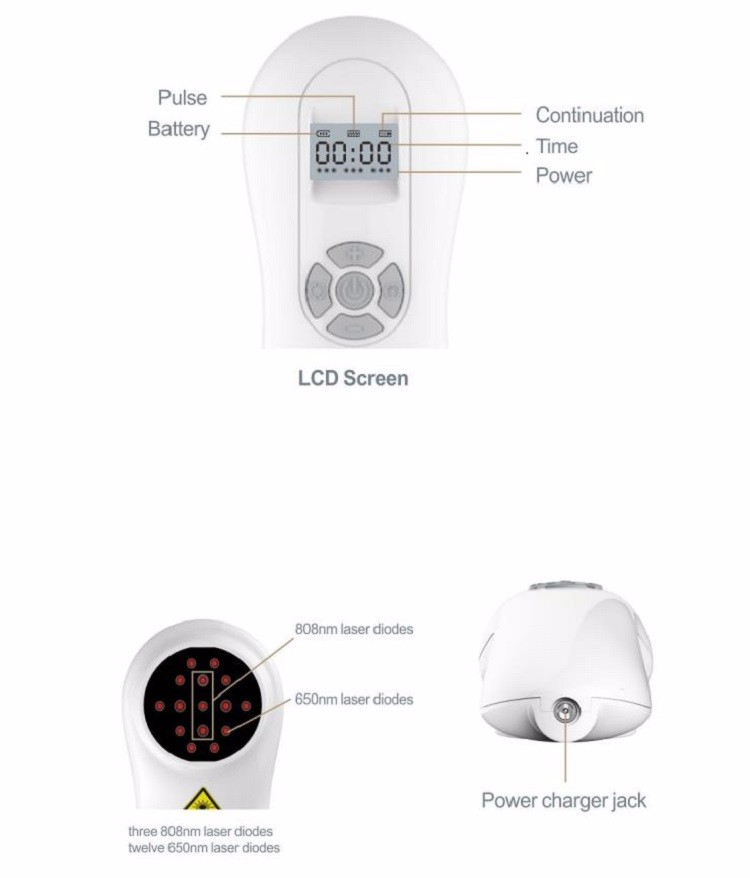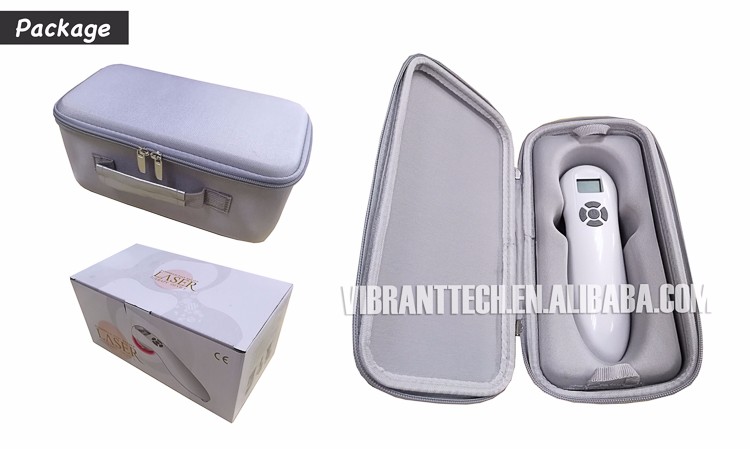 Packing details:
1pc/box, 24boxes/carton,
G.W: 1kg/box
G.W: 25kg/CTN
Carton size: 430*580*620mm
Delivery details:
* We will ship the goods within 5 days of your payment.
* We use DHL, UPS, FedEx, EMS Express or other (air / sea) shipping delivery. (According to your requests)
* The logistics tracking number will be provided to you for inspection.
* If there is any problem with the shipment, we will work with you to solve all the problems