Factory price Body Slimming machine High Potential Therapeutic Equipment
General Description:
The high potential therapeutic equipment is new model and multi-function therapeutic equipment that has researched and developed by centralizing the company's massive labors, materials and finances and by adopting the up-to date electronic technology,electromagnetic theory and modern physical medicine for three years.
It integrates high/negative potential, optical, leading prong and heating function and comprehensively adjusts and balances the human body cell, organization, and organ system from innards to external body as helps person to eliminate the pain and disease and maintain the young vitality. Meanwhile, not only it enables to care health but also nourish the body, which presents the brand new conception of hi-tech, physical property, green and health.
Functions
1) High /negative potential: high-voltage alternative electrostatic field; two optional gears for high and low potential;high(9000V),low(6000V);Optical; intermediate frequency 76KHz alternative electric field, two optional gears for high and low; high(1200V),low(950V);
2) Heat: the thermostatically control device is provided at the high gear of heat, and the temperature is kept(65°C±1°C);
3) Leading prong: when carry out whole body treatment with high/negative potential,insert leading prong and implement the partial the partial treatment at the same time. (At the beginning,please select low gear of high/negative potential)
4) Timing function: 30\60\120minutes; three- segment selection for circulating in turn; 30 minutes opening mode;
5) Tone indication of timing therapy ending and automatic cutting the output.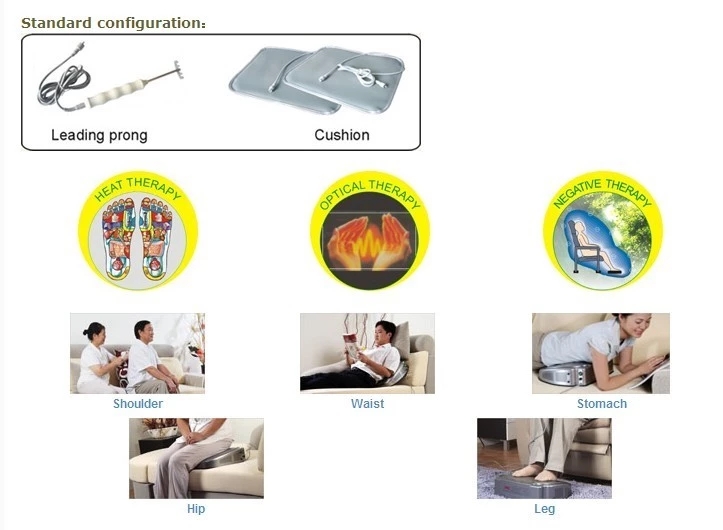 Features:
1. Possess various functions such as high-voltage alternative electrostatic field, intermediate frequency 76KHz alternative electric field and heat.
2. Possess indication tone of selecting key-press, therapy function and therapy ending.
3. High/negative potential, two gears for high and low optical. The gears can change the output voltage.
3. Unblock the meridian.
4. Three gears in heat such as high, middle and low. When the temperature of high gear in heat exceeds 65℃±1℃, controlling device should be capable of turning off heating power supply.
5. Change different output jacks( for example, high/negative potential, optical and heat), it can carry out various therapies.
6. Adopt microchip to control. The performance of therapeutic equipment is stable, with a low failure rate.
7. The high voltage generator is manufactured by a special process to ensure the stability and safety of the whole machine.
8. Adopt the double-wire with protective tube and high voltage separation and protection device to ensure the safety of using.
9. Easy, direct-viewing operation.
10. The whole machine is equipped with a perfect safety protection system, so the therapy process is safe and comfortable.
Main technologies
1. Main technical parameters
a) power supply:AC 220V,50Hz;
b) Input power:</=120VA
c) Output current:</=2mA
d) Electric potential difference:±20%
e) Time difference:±2%
Inspection items
(1)Mainframe *1 set
(2)Seat cushion* 2pcs
(3)Connection wire of seat cushion*1pc
(4)Leading prong*1pc
(5)Protective tube*2pcs
(6)Instruction manual of leading prong*1copy
(7)Warranty certificate *1pc
(8)Product certificate*1copy
(9)Instruction book*1copy